The mask which really protects!
Germanies first mask, with the seal

"100% Made in Germany"
 Which actively pulls Virus, Bakteria, Fungi and Spores to the mask, fix them and finally destroys them.

5-layered OP-Mask
Key Facts:
Through chemical charges of the surface of the mask the virus molecules are being pulled onto the mask surface. The innovative filter medium is binding the virus molecules through a chemical bonding. The salification finally destroys the protein hull of the virus molecule, and the remaining residues are non-reactive and non-dangerous molecules.
This process takes 10 to 15 minutes to destruct appr. 99,9% of all virus molecules.
Description

Advantages

5 layered OP mask
Tested after DIN EN 14683

> 99,8% Filter performance
after German medical tests DIN EN 14683 

Metal nose piece to adjust
on every bridge of the nose

very high breathability,
like the 3-layer surgical mask known today

Ear loops with high wearing comfort

recommended 1 time use
Zertifiziert nach DIN EN 14683 Typ II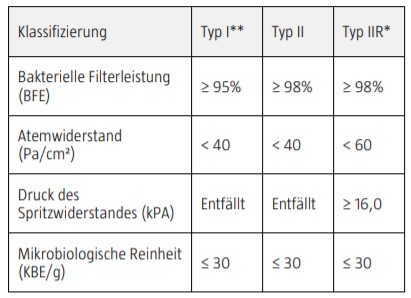 We have various mask types available in our product portfolio.
The following mask types are available on request
FFP1

FFP2

FFP3

Plastic masks with interchangeable inserts

cotton masks

children's masks

All of our masks are equipped with the unique, patented, innovative "VSM" material that kills Covid-19, and all masks offer this unique protection.
A market entry of all of our different mask types with this additional corona protection is in preparation.
Our masks are also available in different sizes.

Some of our masks have different fastening concepts (rubber bands at the back of the head or ear loops).

Since we place great value on local supply chains for our production, we assure you that all of our masks and the raw material are "Made in Europe" or even "Made in Germany".